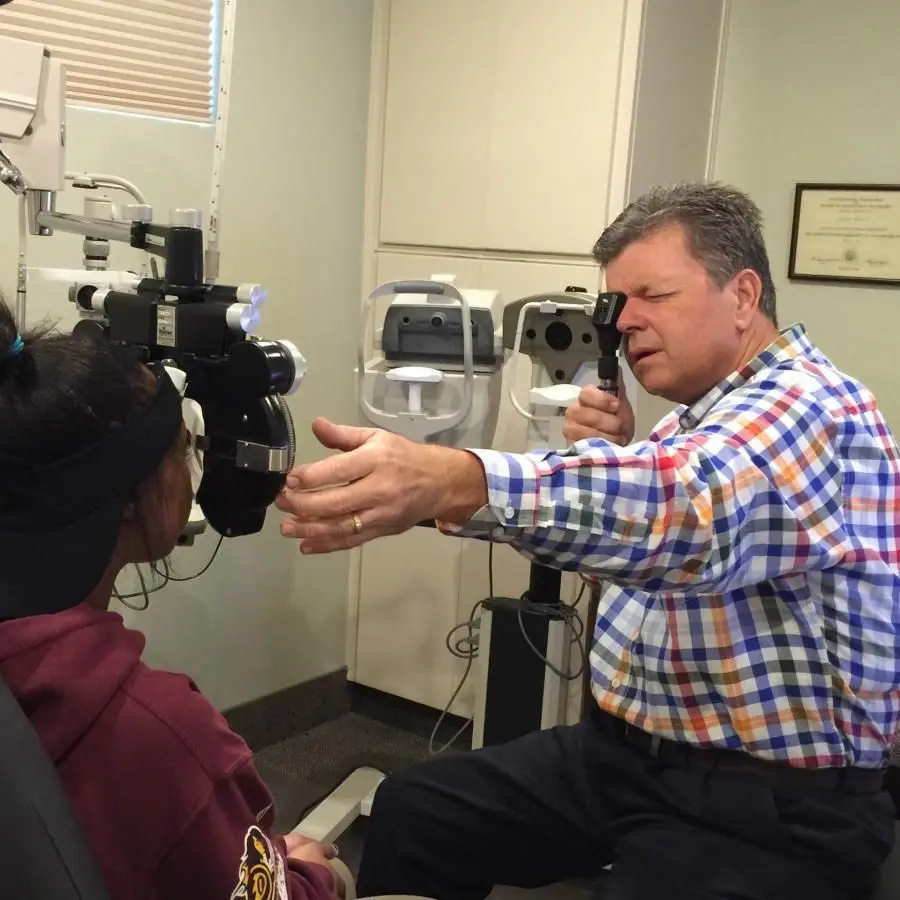 Adult & Pediatric Medical Eye Examinations
Examinations are provided by Dr. Meek or Dr. Kopper who are licensed doctors of Optometry. We use the latest in computer and laser instruments to ensure the best result. The examination will vary from patient to patient depending on the health of the individual and their visual needs. Typically, it may include;
Medical History
Measurement of visual acuity
Refraction (prescription for eyeglasses)
Intraocular pressure (Glaucoma)
Dilated pupil fundus exam if necessary
Automated Visual Field exam (to rule out: stroke, glaucoma, diabetes &

hypertension)
Contact Lens Examinations and Fitting
To help protect and maintain your good vision while wearing contact lenses, we require annual contact lens examinations. Several new contact lenses have emerged recently. For more information about Acuvue contacts visit their Web site at www.acuvue.com. Another valuable source for eye care information is the American Optometric Association website at: www.aoanet.org.
Please Note: If you wear contact lenses or would like to, there is an additional charge for a contact lens evaluation, which most insurance companies will not cover. The fee for the contact lens evaluation is $35.00. Additional testing for the evaluation includes:
Corneal curvature measurement
Corneal health evaluation
Proper fit of contacts: movement, centration
Review of solutions and wearing schedule
Follow up visits
Contact lens prescription
Emergency Eye care
Please inform us of your eye emergency as soon as possible so we can adjust our schedule to see you. If an emergency occurs outside our normal clinic hours please go to the nearest emergency room. Then call us the following morning so we can continue to manage your care.
Surgical Consultation & Co-management
We consult and co-manage LASIK, cataract, eyelid and other surgical procedures Let the staff know and we can give you a free LASIK consult with your eye exam.
Treatment of Glaucoma
Glaucoma is the silent thief of sight. It is estimated that there are one million undiagnosed cases of glaucoma in the Medicare population. There are many exciting new glaucoma medications that control the eye pressure and save precious eyesight. You need an eye care professional to diagnose and treat glaucoma. The eye pressure may be normal but glaucoma may still be present.
The Automated Visual Field
This instrument assists in detecting glaucoma, stroke, M.S., neurological problems, brain tumors and unexplained headaches. This test only takes a few minutes but gives our doctors valuable information on the health of the eye and the entire body. We like to think of it as a mini MRI. Many times insurance companies will pay for this test.
Treatment of Dry Eye
One of every 5 Americans has a medical condition called "Dry Eye Syndrome". This number is even higher in the Central Coast because of our year long sunny climate. Factors that can influence dry eye include:
Age ( low tear production)
Medication (dry mucous membranes)
Systemic Disease (i.e. Arthritis)
Climate -Environment (air pollution, cigarette smoke, heating and air conditioning)
Contact Lens Wear
Treatment of Dry Eye:
There are many new and improved dry eye products on the market that are preservative free. They include:
Drops
Gels
Ointment
Punctal plugs
Punctal Plugs
Punctal plugs are used for patients with moderate to severe dry eye symptoms. Inserting punctal plugs is a safe, simple, painless procedure that brings relief to dry eye patients. It prevents more of your natural tears from draining away from your eye thus keeping your eyes moist and comfortable.